Forever Pucked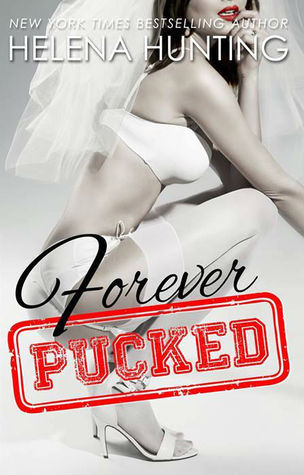 Blurb
Being engaged to Alex Waters, team captain and the highest paid NHL player in the league, is awesome. How could it not be?
In addition to being an amazing hockey player, he's an incurable romantic with an XL heart, and an XXL hockey stick in his pants. And he knows how to use it. Incredibly, orgasmically well. Alex is the whole package and more. Literally. Like his package is insane. Total world record holder material.
So it makes complete sense that Violet Hall can't wait to nail him down to the matrimonial mattress and become Mrs. Violet Waters.
It's so romantic.
Violet is totally stoked to set a date.
Eventually. At some point. Likely before the next millennium. Or when Violet stops getting hives every time someone brings up the wedding, and their mothers stop colluding on stadium sized venues. Whichever comes first.
(Ebook) Amazon | Amazon IN | Amazon UK | Kobo
(Paperback) Amazon | Amazon IN | Amazon UK
Teasers
My Review
Ratings: 4 stars
Pages:  308 pages
Story Format: Dual POVs
Published Date: 29th March 2016
It's the 4th book in the Pucked series and this time too Helena did an amazing job portraying the characters.
This is the extended story of Alex's and Violet. We all know that Violet is rather awkward in large social gathering and is opt to do something embarrassing. So, when there's wedding talk with hundreds of people as guests, well because Alex is the captain of NHL team.
In the previous book, we got the Violet and Alex's engagement party and how she was overwhelmed with all the guests that she had hives.
There's was little talk about why she is so awkward in the weddings, something happened in Skye and Sidney's wedding (her parents) to make her like that. And what happened was really mortifying. I feel you Vi.
We still haven't set a date. Weddings stress Violet out. She's started getting hives whenever we talk about it. Apparently she had a terrible experience with her mom's wedding—she was just a teenager—and she hasn't gotten over it. I've asked about it, but she's vague with her explanation.
The start of the book was somewhat slow compared to the others in the series. After about 1/3 in the story, it gets excited and really interesting.
Sunny and Miller, there's a lot suspense in their story too… I think I am really regretting not reading their book but the after, the HEA for them is really good.
Randy and Lily, Gosh I just love them. They are my favourite couple in whole series. They are still in their fresh relationship state where they can't get over each other.
"Are you two planning to find a bathroom to screw in after the game?" I ask Lily.

I'm only kind of joking. Lily and Randy seem to have a strange affinity for getting it on in bathrooms, even when there are perfectly good bedrooms available.

"Depends on whether Randy can wait until we get back to his place tonight." Lily seems strangely serious.
Charlene and Darren, I don't know about them. They are very vague in their relationship. I hope we get something more of them soon.
The team skates around the rink, and of course, Alex pauses to tap the glass and wink at me. Darren follows and takes a moment to stop in front of Charlene. He pulls at the front of his jersey. Charlene unravels the scarf around her neck and touches the pearl necklace she's wearing.

 It's so weird that that's their thing. We've talked about pearl necklaces before, but I thought it was more of a joke. Maybe it's not. Maybe Darren really likes to jizz on her throat. The necklace would suggest that. Actually, it's more of a choker.

 I glance at Darren again in time to see him mouth, Your ass is mine. At least that's what it looks like he says.
All in all I love Alex is with Violet. I really liked reading their weird and strange relationship.
"I will always love you, Violet. I won't ever be perfect, and I'll make mistakes, and I'll definitely say things that will make you angry, but I promise to tell you every day, not just with words, but with actions, that you are the center of my universe. You're the sun in my sky and the breath in my lungs. I promise to be yours for every second of this existence, and to cherish every moment of that love with you."